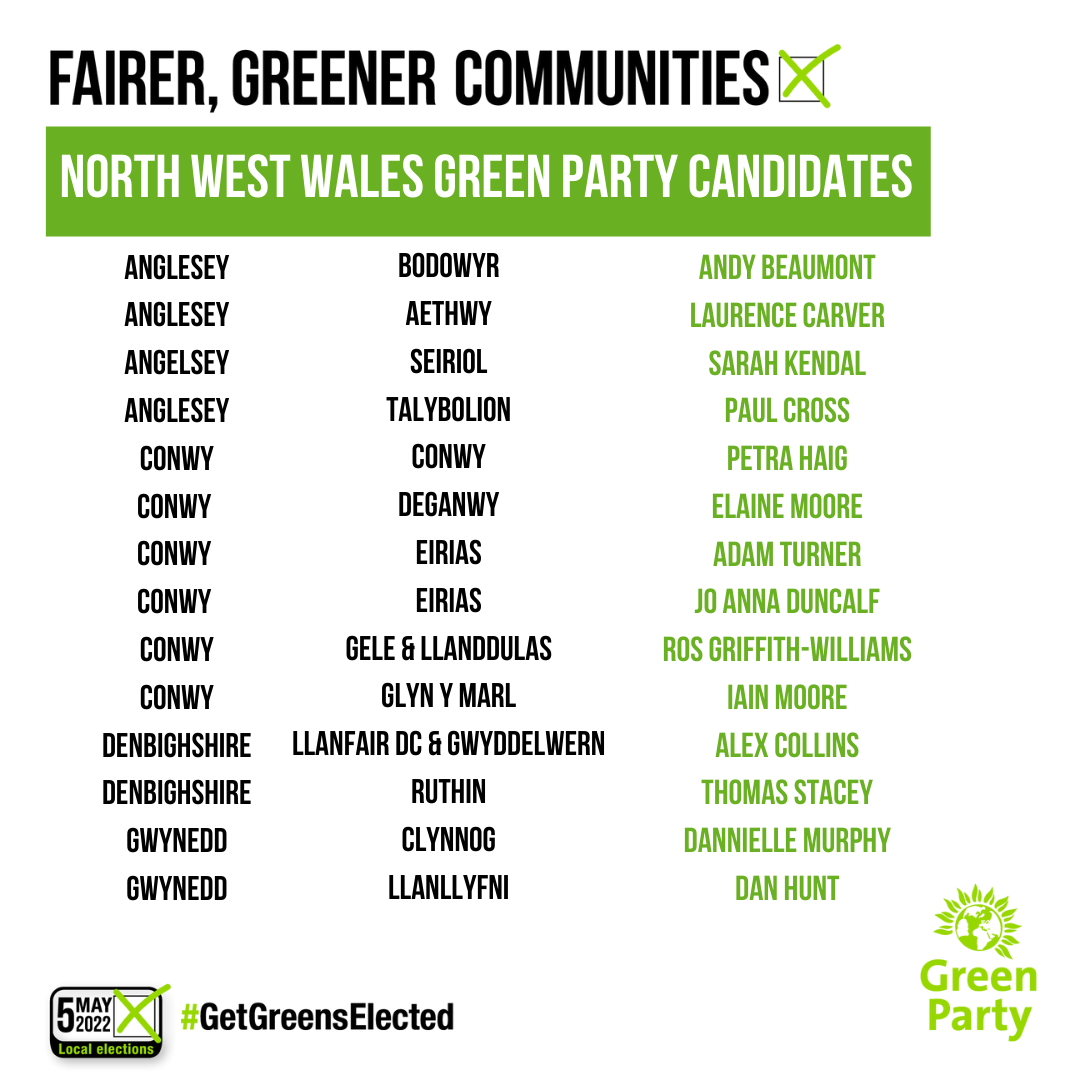 Local Elections 2022 - Make A Difference To Your Community
Local Elections are taking place on May 5th this year, where you are able to elect the people to represent your community at the council. This year we are standing 14 candidates, the largest amount ever in NW Wales.  See where you can vote for a green party candidate below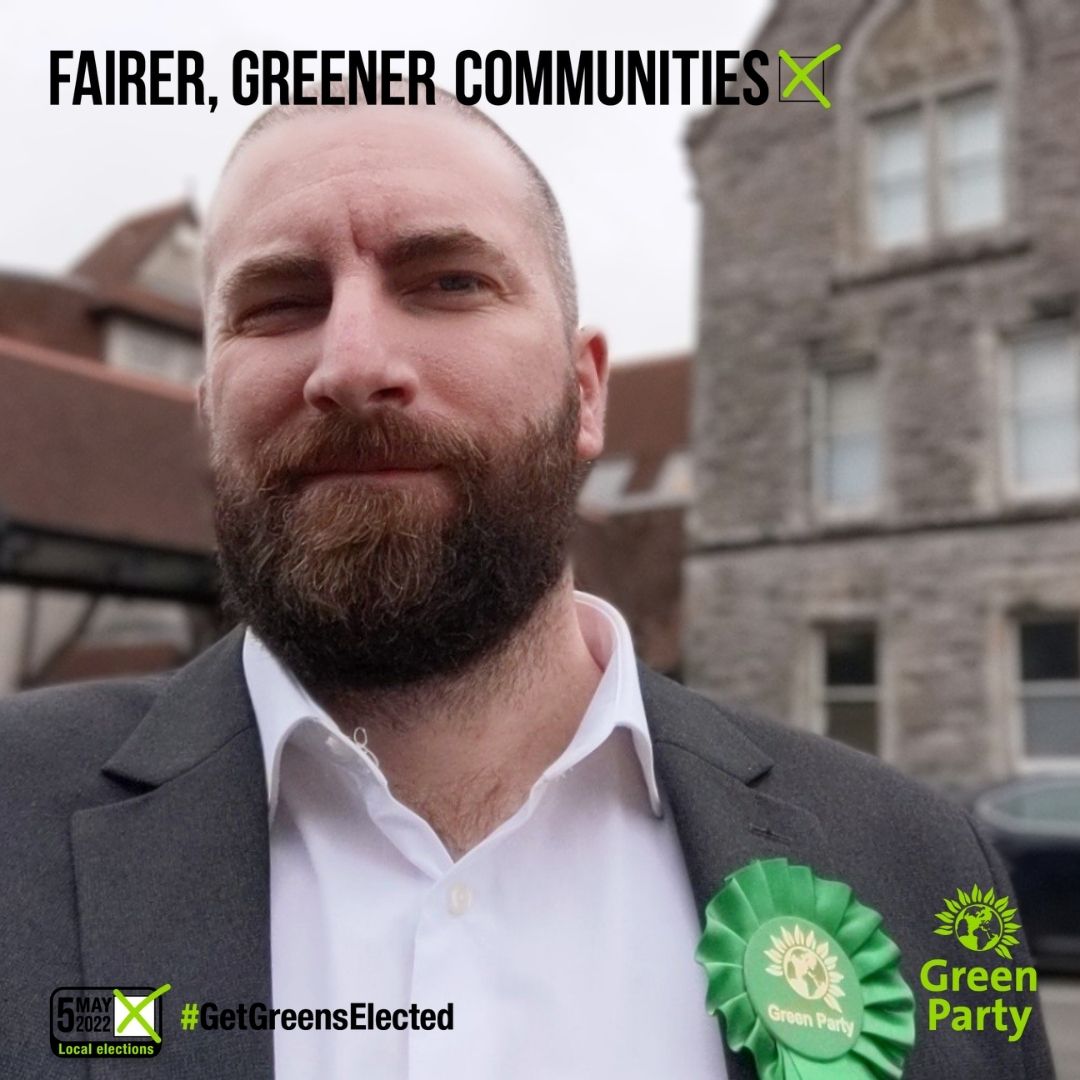 Adam works as a town planner, having qualified with a Masters in town and transport planning. He says, "Given the traffic and housing issues in Eirias, I'm glad I can get stuck in and use my expertise to help the community." I live on Abergele Road and use the same roads, shops and services as you. My regular 'Messenger' newsletter has kept residents up to date with what's happening – whether that's cleaning up our green spaces or improving our roads.
Jo-Anna is a schoolteacher who works in Old Colwyn. She says, "Talking to families really helps me understand the area's long-standing issues. It's clear we need to be looking after our green spaces." In addition "I come from a family who run a number of small local businesses so I'm also passionate about supporting our local economy".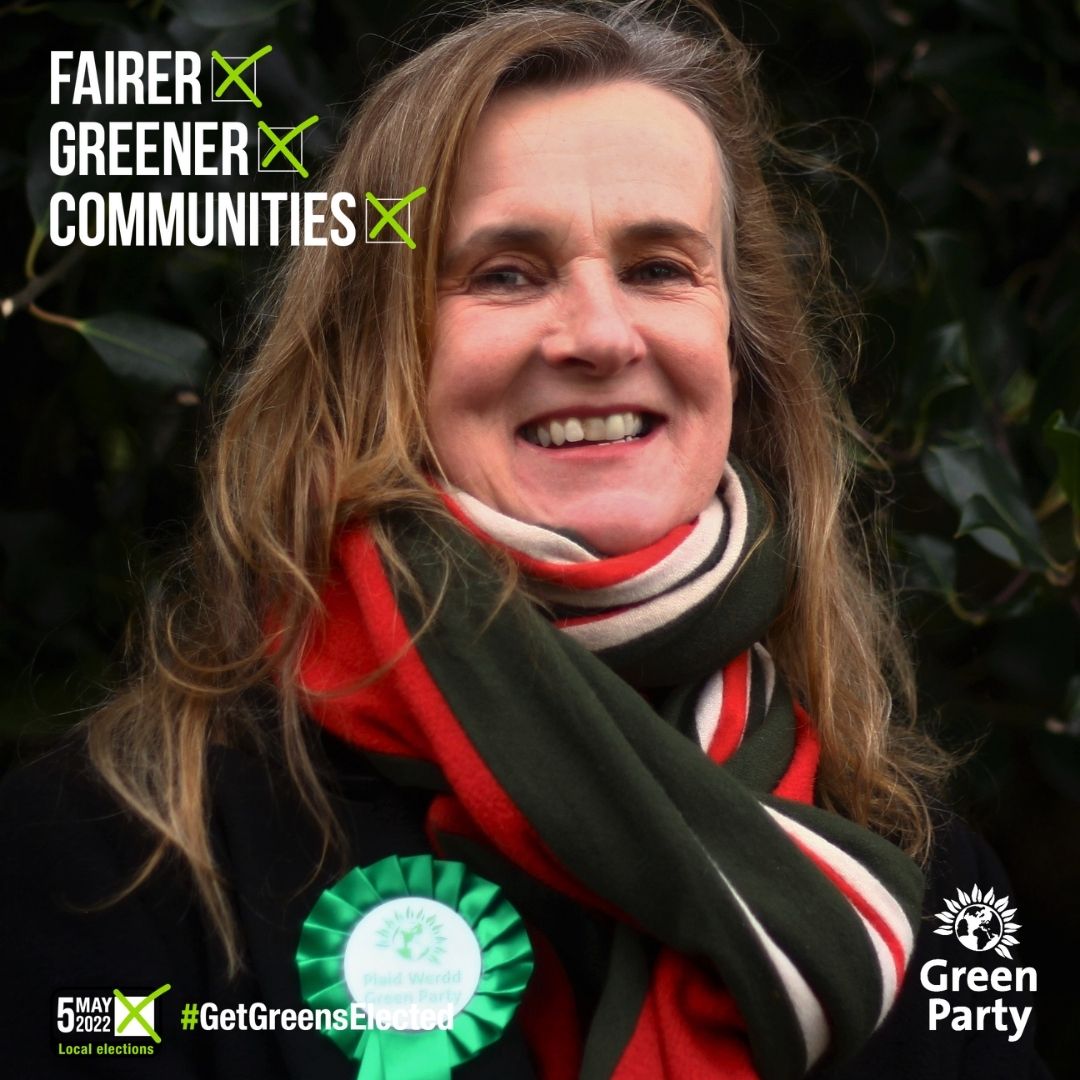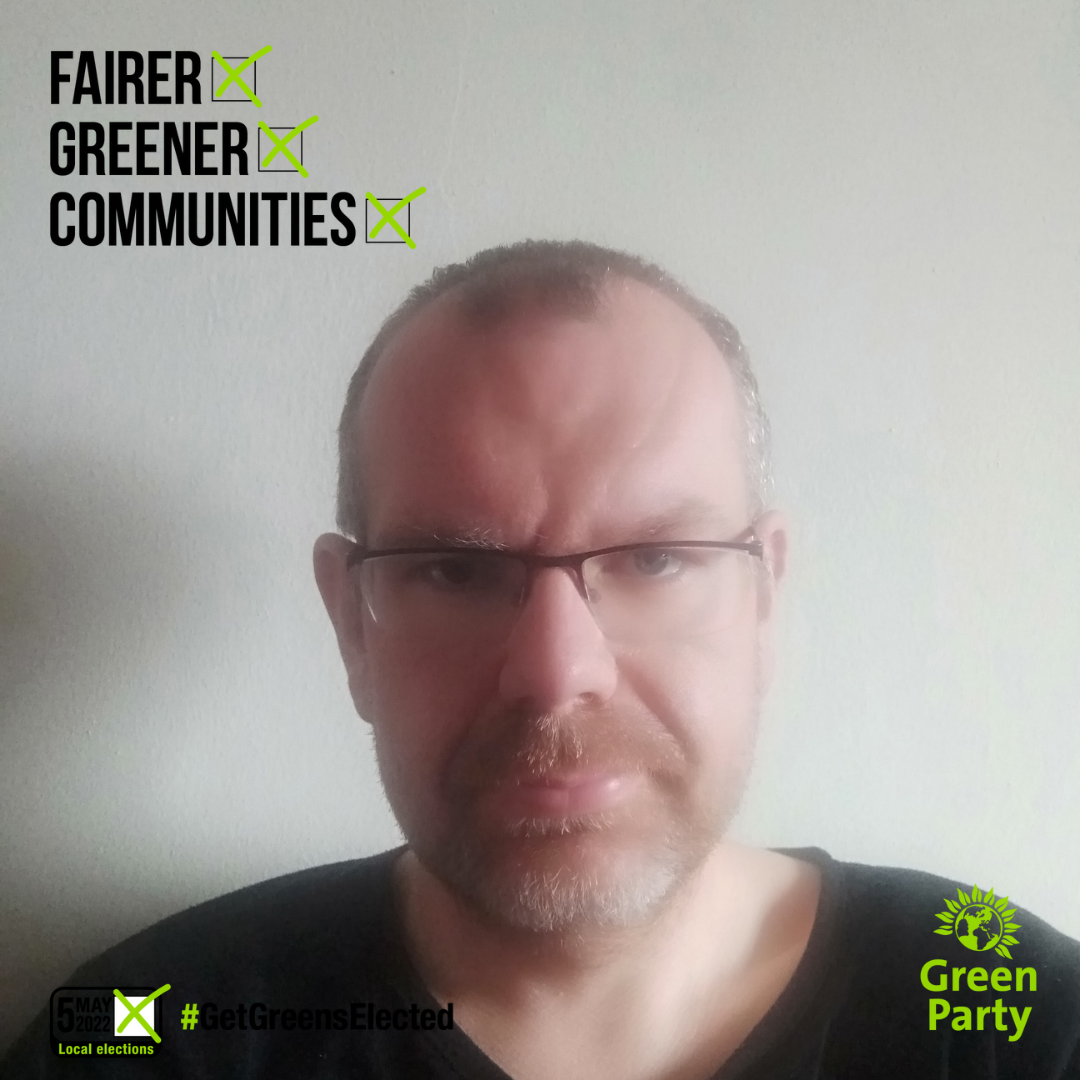 I'm a local small business owner and smallholder. I'm standing because I'm convinced of the need for a green voice in every room and as part of every discussion. I'm passionate about changing how we produce, sell and eat our food in response to the climate emergency we're living through. I want to increase access to more sustainable types of food and the opportunities to produce it from scratch. I believe doing so will create more resilient, joined-up local communities which are able to thrive in the future.
I have lived in Deganwy for 13 years and worked in the NHS in Colwyn Bay until 2017. My husband and I run a small eco- friendly tourist business in the area and our children have been to local primary and secondary schools. I have been a member of the Green Party since the 1990's and was instrumental in forming the NWWGP in 2015, sitting on the committee and standing in Parliamentary and Senedd elections as well as and supporting other candidates in local elections. I have been an environmental activist since Greenham Common and have been at marches and protests about local issues such as Wylfa B, the dumping of nuclear waste in Wales as well as nationwide issues, like the Policing Bill. I have been actively involved in local groups and committees, helping with beach clean ups and other community events to help improve and enhance local life.
I believe that housing and social care are both difficult issues that need to be reviewed in an innovative way. Protecting families from homelessness and valuing carers with proper renumeration, leads to a society that respects all individuals. Investing in existing housing stock with energy efficient improvements will also help reduce bills and poverty which are causing a rise in mental health problems.
Now, as never before, is the time to put a Green Party voice into local politics here in North Wales. I believe that The Green Party looks at issues from a different point of view, not right or left but centrally. Central to society, central to our environment, central to the well- being of our communities.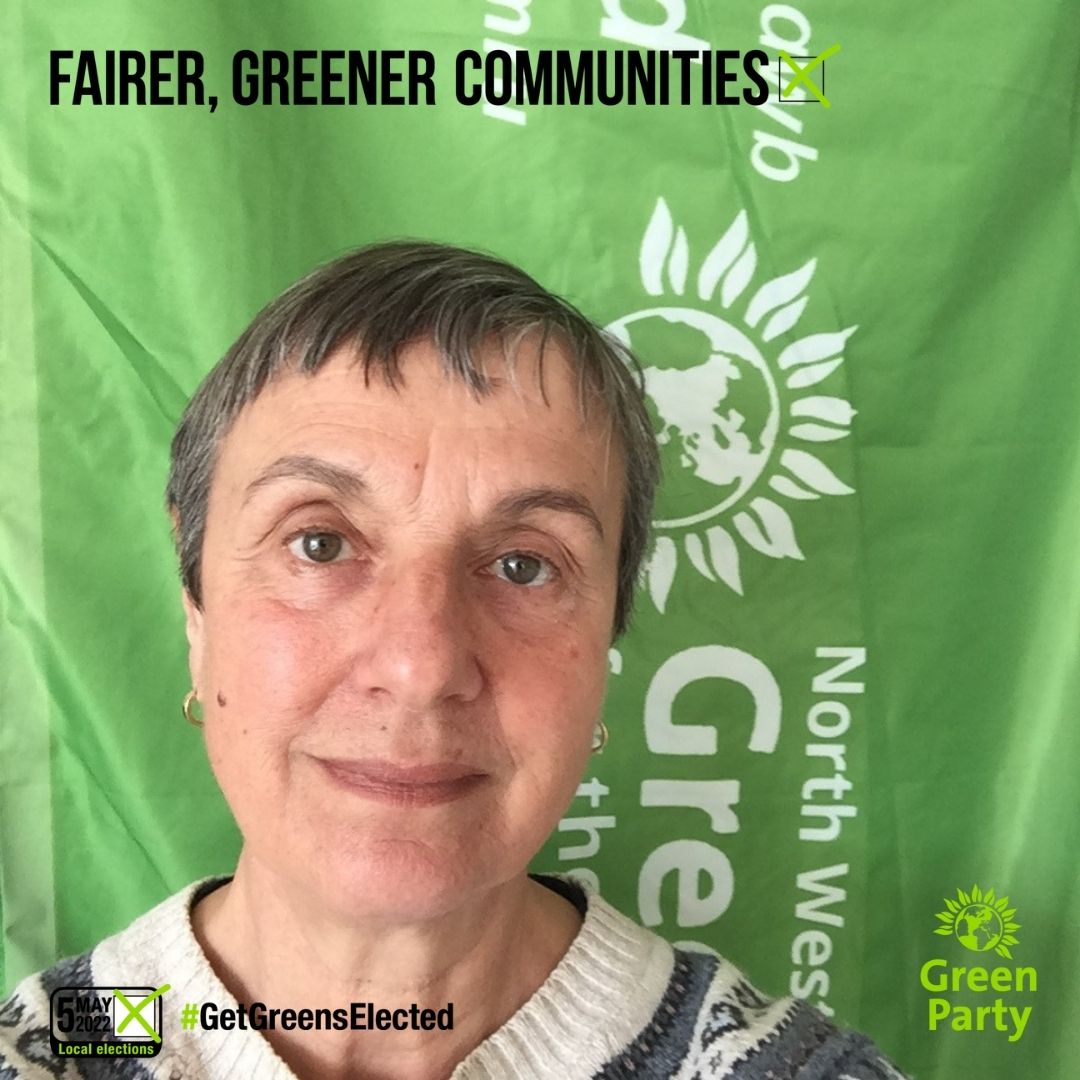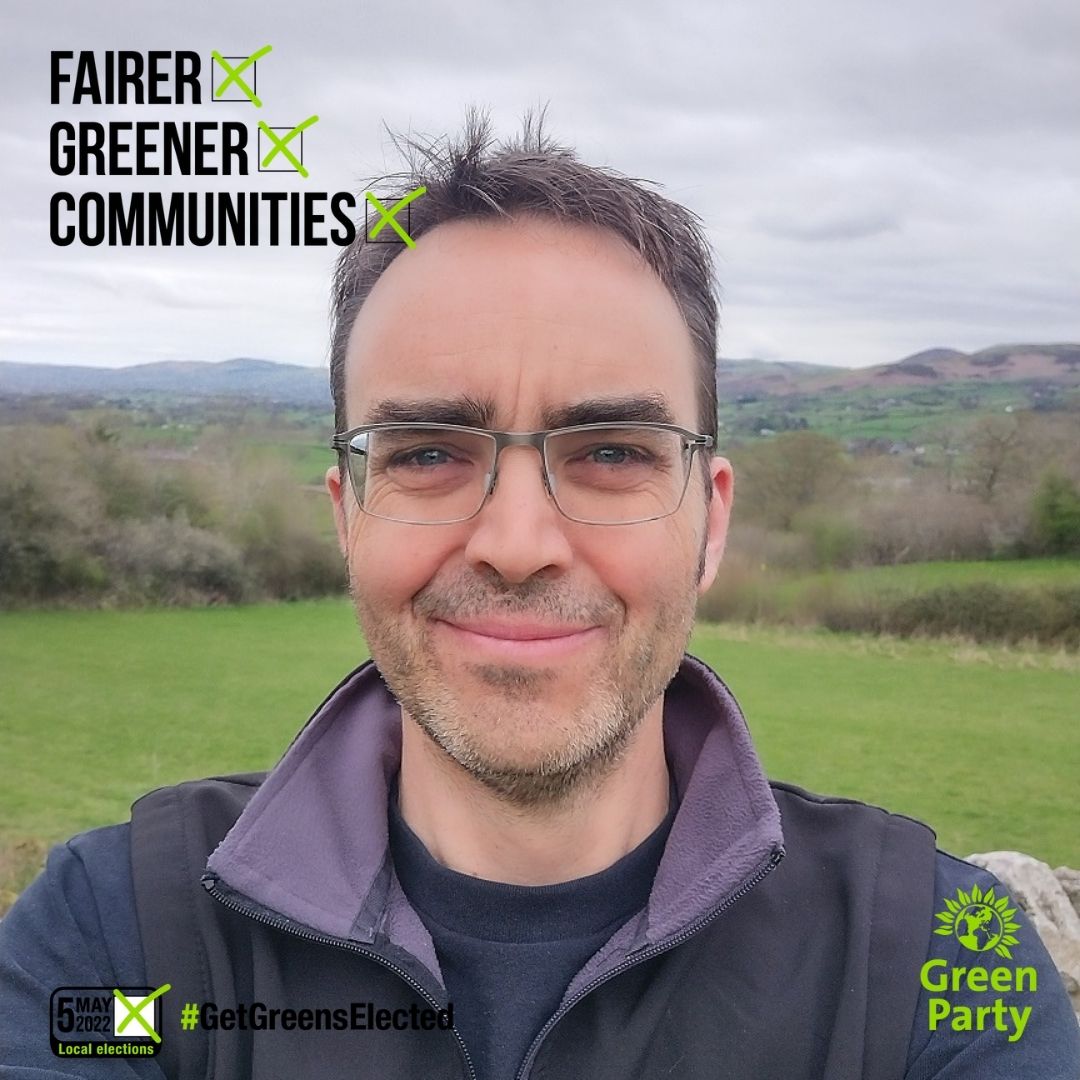 Alex Collins - Llanfair / Gwyddelwern
I have lived in the Ward of Llanfair / Gwyddelwern for the last 6 years (although have actually spent over two thirds of my life living in the Vale of Clwyd), my wife is actively involved in the community green space project at the old Llanfair primary school & my own personal project is the rewilding of 40 acres of fields and woodland into a protected & nurturing space for all native forms of flora, fauna & fungi.
I am well aware of the importance of farming & tourism for the Vale, and should I be elected, I would like to encourage more sustainable (and possibly even more productive) practices to both activities.
Other actions I would like to see happen in the local area are more mentoring opportunities that young adults can benefit from, increased opportunities for those who have difficulty finding gainful employment, community action groups, wildlife corridors, and promotion of the positive connections between nature and mental health.
I am representing the North West Wales Green Party in these local elections in order to give people an alternative, it is clear to me that we cannot continue to treat this, our only planet quite the way we have done and I believe a strong Green presence is required in Government in order to help us achieve something close to Net Zero by 2050.
The Green party has a very important story to tell and that story needs to be heard.